FL STUDIO 21
Fruity Loops 21, also known as FL Studio, is a popular digital audio workstation (DAW) for music production. It has been around for over two decades and has been favored by many producers for its user-friendly interface and a wide range of features.
In FL Studio 21, the latest version, you'll find a wealth of new and improved features. The interface has been updated for a more modern look, and the addition of multi-touch support makes it easier to use on touchscreens. There are also new plugins, including the FLEX synthesizer and a new advanced sampler, as well as upd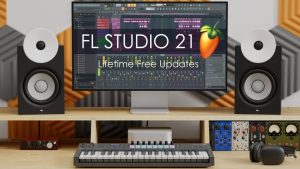 ated versions of popular plugins like Harmor and Gross Beat.
One of the standout features of FL Studio is its pattern-based workflow, which allows you to easily create and arrange patterns of music using a step sequencer. This is especially useful for creating loops and beats. The piano roll, on the other hand, provides a more traditional way of entering notes.
FL Studio also comes with a wide range of mixing and mastering tools, including equalization, compression, reverb, and delay, among others. With the ability to use unlimited number of audio and MIDI tracks, FL Studio is a comprehensive solution for all your music production needs.
In conclusion, Fruity Loops 21 is an excellent DAW for both beginner and advanced producers. With its user-friendly interface, extensive feature set, and affordability, it's a great choice for anyone looking to start producing music or improve their existing setup.
Here are key points on FL Studio 21:
A popular DAW for music production
Has a user-friendly interface and a wide range of features
Latest version updated with modern look and multi-touch support
New plugins, including FLEX synthesizer and advanced sampler
Pattern-based workflow for easy loop and beat creation
Piano roll for traditional note entry
Mixing and mastering tools, including equalization, compression, and more
Unlimited audio and MIDI tracks for comprehensive production
Affordable option for beginner and advanced producers alike.
NEW KEY FEATURES
Audio Clips – Integrated envelopes with fade in/out, precise level control and automated crossfades.
Themes – Hue, Contrast, Brightness, highlights, metering & step color control.
Browser – Upgraded browser with tagging, lightning fast search and online content discovery with download management.
Luxeverb (All Plugins Edition)– The most advanced reverb made exclusively for FL Studio.
Vintage phaser (Signature Bundle and up) – Meticulously modeled on the 80's classic used on Oxygene by Jean-Michelle Jarre.
Multiband Delay (Producer Edition and up) – 16 frequency band delay with independent control. A truly unique sound design tool.
VFX Sequencer (All Editions) – An advanced step sequencer to transform chords into melodic phrases.
Multi-language support – Spanish, German in addition to English and Chinese. French coming soon.
Previous
 Selling Beats With Distributors – Monetizing Sample Loop Beats As a music producer or DJ, one of the best ways to sell more beats and make a steady income is by offering your beats as royalty-free to music distributors. By doing this, you can reach a wider audience and increase [...]